My Virtual PBX - Background
This application is an extremely powerful and easy-to-use tool for managing and directing incoming phone calls. It's really the chance to have your own Hosted PBX Phone System.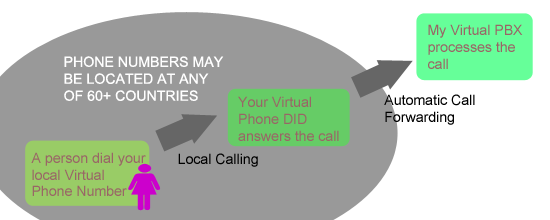 My VPBX gives you and your customers access to full auto attendant features with advanced call forwarding services, as well as standard PBX features.
Incoming calls from one or many local numbers
Calls forwarded to any phone number (landline or mobile), VoIP destinations, Skype or Google Talk
Calls forwarded to multiple destinations simultaneously or by predefined order
Full IVR facilities, with calls being transferred directly to extensions or voicemail as required
Voicemail messages being sent to selected email addresses
Ring and hunt groups, with time-based call routing
Dial tone access for outbound calls (DISA)
Message recording and playback, including file uploading and text-to-speech facilities
Fax reception, with forwarding to email
Conference rooms, hosting multiple participants with full privacy
Notification of selected events via email or SMS, with intelligent variables throughout the call flow
Blacklists for blocking unwanted callers
Phone calls may be recorded and sent to a predefined email address as an attachment after the termination of each call
Automatic caller ID-based routing on partial or full number matches.
Sip Device Registration and Internal Extension Dialing
DRAG-AND-DROP objects are simply and logically connected together to control exactly how the call progresses, offering unlimited call flow scenarios that are suitable for both personal and business use.
What does it look like?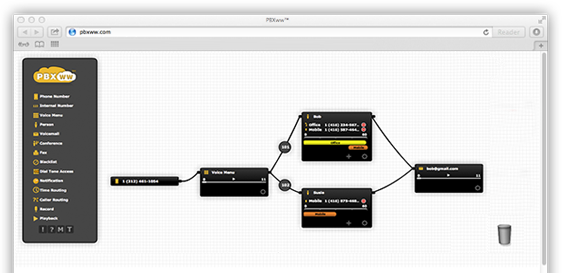 Personal, Emigrants, Travelers. Allow your friends, relatives, or whoever, to call you dialing a local number in their own countries (avoiding them to pay for international calls) an you will receive the call at any country you are. You can share your new phone number on Facebook.
Businesses. Expand your business providing your potential customers with local numbers. Featured Virtual PBX is suitable for small-medium companies.
Get phone numbers around 60+ countries inmediately.
Configure your Virtual PBX easily and online through a Facebook App. The changes take effect inmediately.
No documentation. No contracts. Anybody may access.
Global and reliable infrastructure to support our services.