Top-up
We are conscious one of the most important problems that Internet users find through the Web is not to be able to pay because any payment method is not suitable for them. Precisely, looking for diversity in payment methods that allows any person in the world to be able to get our services, we have worked hard to provide our customers with 4 payment platforms (payment systems), together with an own currency system (Phone2call credits).
How to top-up in Phone2call?
There are around 60+ payment methods available to top-up in Phone2call, working in the way that the following image shows: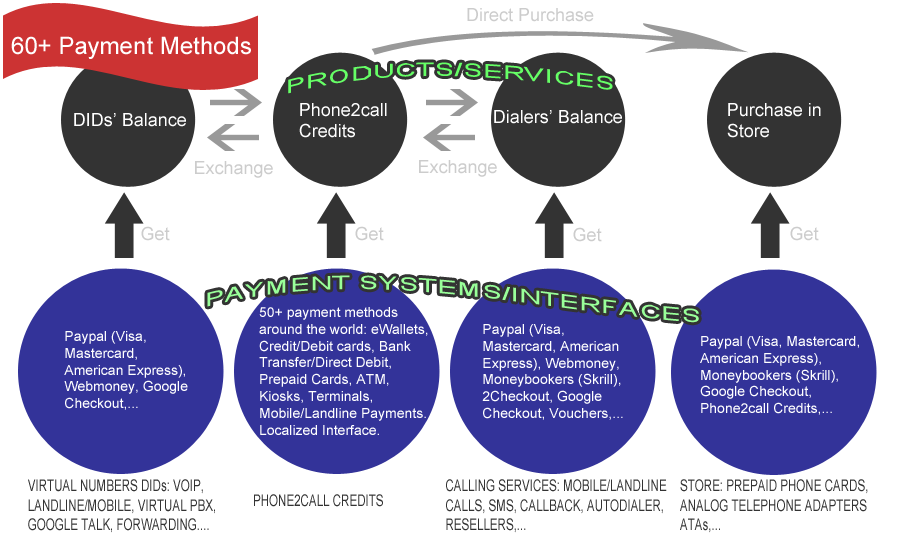 How to Go to the different Payment Systems/Interfaces?
Dialers' Balance allows you to enjoy with the services related to dialers/softphones and direct calling such as: International/national calls to mobiles/landlines, international/national SMS to mobiles, Callback, Autodialer, Forwarding options,.. For to buy balance :
(Two steps : 1. Do an account on www.paypal.com 2. Recharge account)
DIDs' Balance allows you to use any of the services related with Virtual Numbers DID, basically: Phone Numbers around 60+ countries with different options of call forwarding such as VOIP, Virtual PBX, GTalk, Linphone, Regular mobiles/landlines (PSTN).

Purchase DIDs' Balance now!

With Store's Balance you will be able to purchase any product/service available in the store such as Prepaid Phone Cards, IP Phones, Analog Telephone Adapters - ATA,...

To get balance here, you simply need to add something to your cart and follow the process to buy the products/services you have chosen.

Phone2call Credits are our official own virtual currency. These credits may be exchanged for any other balance including to purchase directly in our Store.
Own Currency System